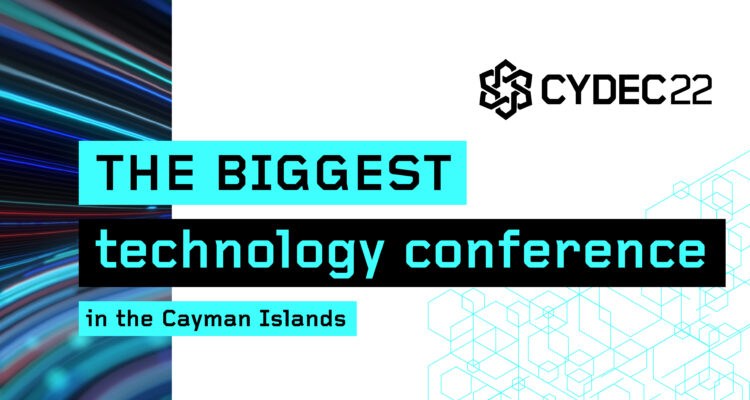 The fifth annual Cayman Islands Digital Economy Conference (CYDEC) returns to its in-person format, on 21 June 2022.
This year's theme "Remodelling the future" highlights the status of key local and global digital initia-tives, delivered through presentations and panel discussions from a host of expert speakers.
Each year, CYDEC – the first conference of its kind in the Cayman Islands, showcases cutting edge ideas and applied technological advancements to an audience of forward thinking, public and private sector business leaders. Following the success of the first CYDEC event in 2018, industry body 'Digital Cayman' was launched with the aim to cultivate economic development.
Mr. Paul Byles, CYDEC founder, said, "There is no denying that digital innovation is remodelling the future. We have reached a pivotal point in the advancement of technology and business leaders need to ask, 'What does that really look like in the Cayman Islands?'"
"Following the success of our four previous conferences, we are delighted to continue to offer
CYDEC as a platform to discuss digital growth across our Islands, and beyond."
CYDEC 2022 will feature the status of the Cayman Islands Digital ID, the future of the Metaverse phenomenon, the regulation of Cryptocurrency, NFT's place in the Cayman Islands and more, from global industry leaders and local technology figureheads.
The digital technology conference is aimed at business leaders across financial services, tourism, technology and the public sector – extending to those in compliance and enterprise risk manage-ment roles. The full-day event will take place at The Westin, Grand Cayman from 8.45am.
Guest speakers and moderators include:
The Hon. Andre Ebanks MP, Minister of Investment, Innovation and Social Development
Laura Birrell, CEO, Parallel
Corey Glaze, Chief Product Officer & Co-Founder, TERN
David Manoucheri, Cyber Security Analyst
Tammi Sulliman, Director of Communications, Block One
Ian Thornton-Trump, Chief Information Security Officer, Cyjax Ltd.
Ian Tibbetts, Director of eGovernment, CIG
Jennifer Vessels, CEO, Next Step
Chris Wall, Counsel, Ogier and Director, Digital Cayman
Ryan Watson, VP of IT, Brave Software.
CYDEC is produced by local consulting firm, FTS. After two years on a virtual platform due to COVID-19 restrictions, the conference is returning to its in-person format for 2022.
CYDEC 2022 is proudly partnered with the following sponsors: Ministry of Investment, Innovation and Social Development, Loop, Cayman Enterprise City, Tower, Cayman Management, Ogier and Parallel.
Registration is available www.cydec.ky at a cost of KYD $400 per person. The full conference agenda is published at https://www.cydec.ky/schedule/