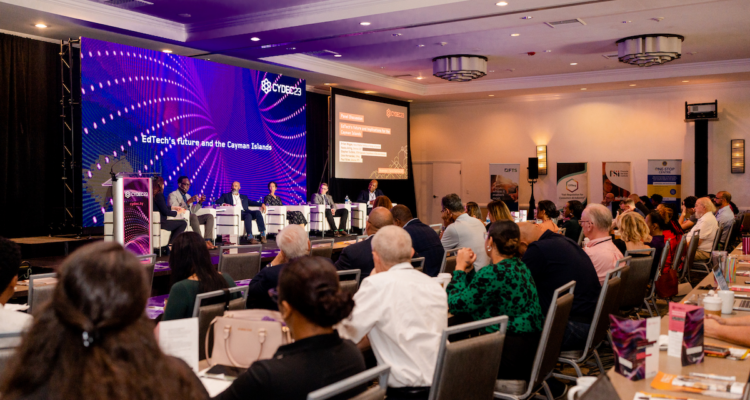 GEORGE TOWN, GRAND CAYMAN, 4 July, 2023 – On June 28, CYDEC 2023 brought together a diverse group of technology advisors, AI enthusiasts, educators, regulators, students, and government officials under one roof for a full day of exploring the transformative power of technology in the Cayman Islands' leading industries.
The conference featured five distinguished international speakers who addressed a wide range of topics unfolding in the Cayman Islands. Laura McBain, who spoke on "AI & ChatGPT: to fear or embrace?", highlighted the multifaceted nature of AI, urging participants to shift from a passive perspective of "AI is happening to us" to actively shaping AI in our work and lives.
Central to the discussions was the importance of educating individuals about upcoming tech trends. It became evident that not only consumers but also society as a whole needs to understand the profound impact technology has on our lives. A significant focus was placed on the implications of AI and emerging technologies across all fields. As access to technology becomes increasingly pervasive, it is imperative to adapt our education systems and workplace environments to ensure we remain ahead of the curve.
Speakers emphasised the necessity of incorporating empathy into design processes and fostering human connections in a tech-driven world. Kwaku Aning, Director, Center for Innovation and Entrepreneurial Thinking (CIET), who discussed Tech's role in the evolution of learning, highlighted the importance of "Using tech with empathy, designing tech with empathy, and building robust authentic connections."
Other discussions covered on the day: Web 3.0: What it is and why it matters, by Ariam Mogos, Emerging Tech + Education Lead, Hasso Plattner Institute of Design at Stanford, Leading in an era of disruptive innovation, by Monica Verma, Digital Services Europe and Monica Talks Cyber, Panel Discussion on AI Spectrum: Business, Social, & Personal, Panel Discussion on Ed Tech's future and implications for the Cayman Islands.
"We are pleased with the rich conversations that took place during CYDEC 2023," said Paul Byles, Director of FTS and Founder of CYDEC. "This event underscored the significance of embracing technology's role in our collective journey towards a brighter future. The future of technology is upon us, and now is the time to understand it, teach it, and pave the way for future generations to leverage its potential for success and advancement."
For further details on CYDEC and upcoming initiatives, visit www.cydec.ky.
Speakers: H.E. the Governor, Mrs. Jane Owen, Governor of the Cayman Islands, Hon. Andre Ebanks, MP Minister of Investment, Innovation, and Social Development and Financial Services and Commerce, Ariam Mogos, Stanford, Kwaku Aning, Center for Innovation and Entrepreneurial Thinking (CIET), Stephen Ta Bois, STEM Specialist, Department of Education Services, Jose Hernandez, OfReg, Paul Byles, FTS, Laura McBain, Stanford d.school, Ben Meade, DART, Monica Verma, Monica Talks Cyber, Alee Fa'amoe,CEC, Jack Copper, NeuralStudio SEZC, Vaughan Carter, Savannah Law, Justin Fisher, VeriBlock and EM.ME, Aldo Barnard, RSM Cayman, Chris Wall, Ogier, Daniel Tobok, CEO, CYPFER Inc
Thank you to our sponsors: The Ministry of Investment, Innovation and Social Development, OfReg, Loop Cayman, Cayman Enterprise City, Digicel Business, RSM Cayman, Tower, University College of the Cayman Islands